7 Things Your Daughter Needs to Learn From You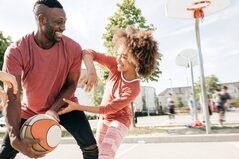 ​I was standing on a ladder, covered in saw and drywall dust, replacing the closet doors in my son's bedroom. My three-year-old daughter walked in, looked up at me with big eyes, and asked, "What doing, daddy?" All of our daughters have a lot of questions and a lot to learn. No matter how difficult or uncomfortable the questions might get, I'm glad they are still asking. It would be much worse if the questions stopped, as it likely would mean they are looking somewhere else for the answers.
Countless studies speak about the importance of a father's role in shaping the attitudes and expectations of his daughters and some of the major decisions they will make as they grow up. We fulfill part of that role by answering questions, but we teach them in many other ways as well. Here are 7 things your daughter needs to learn from you.