3 Questions Your Child Wants Dad to Answer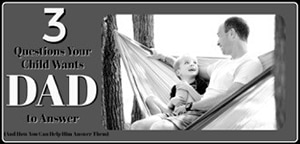 When I was 8 years old, my father took me to work with him on Saturday mornings to Mass General Hospital in Boston. I would sit at his gigantic desk, spin in his chair and when he finished, we would walk to a pastry shop and have a snack. He ordered coffee and I drank hot chocolate. As I look back, it feels like my father took me every Saturday, but truth be told, he probably only took me four or five times. But on those Saturday mornings, I felt important and loved.
​
Those feelings stayed with me for decades and shaped how I saw the world and myself. Your father shaped who you became – for good or ill. Now, your son or daughter looks to their father to find simple answers to three critical questions that will shape the men and women they become.

And here's the good news: you, as your children's mother, can help him answer those questions in a positive way (even if you are divorced.) If your children don't have a father in their lives, you can help a father-substitute like a grandfather, uncle or step- father answer them too.