Jim Valvano and the Power of Believing in Your Kids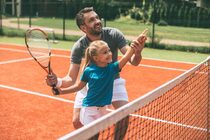 ​What was the greatest moment in college basketball? Even if you aren't old enough to remember 1983, you have probably seen the clip. Derek Whittenburg's shot from 30 feet falls short, enabling teammate Lorenzo Charles to grab the ball and put it in as time expires. The NC State Wolfpack beat Houston's Phi Slama Jama, which included Hakeem Olajuwon and Clyde Drexler. It was the greatest upset in NCAA history.
NC State's vibrant coach Jim Valvano always believed in his team. Part of their practice ritual was cutting the nets down to prepare for winning a National Championship. His confidence was infectious to his players. Even as he battled the cancer that would take his life, he never lost hope or courage. "Jimmy V" knew the power of believing as stated in these words: "My father gave me the greatest gift anyone could give another person; he believed in me." Believing in our children and communicating that belief is an important gift. It nurtures each of the following necessary ingredients to success.