Abundance Is Your Birthright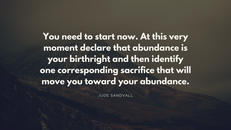 Do you believe that abundance is your birthright? I didn't. I grew up with a hoarder.
My mom saved everything from grocery receipts to her childhood clothes. If you visit her house you will find a collection of 80+ years on this planet. It is a museum of her life buried under pile after pile. It is a sad mental disorder, but what about modern society's mentality about abundance?