3 Ways Dads Influence How Their Kids Win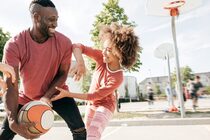 In 2019, the Tampa Bay Buccaneers went 7–9 and missed the playoffs. In 2020, they went 11–5 and won the Super Bowl. What changed? Well, a bunch of variables went into creating this great team. But one of the biggest influences was signing Tom Brady. The quarterback position is unique in football and greatly influences a team. 

Just like the impact a quarterback has on a team, the influence of a father on his kids is immense. The QB influences the team—for good or for ill—based on his leadership. Similarly, as a dad, you have a major role in helping your child win. Here are 3 ways dads influence how their kids win.